The Little Red Caboose - A Hidden Gem!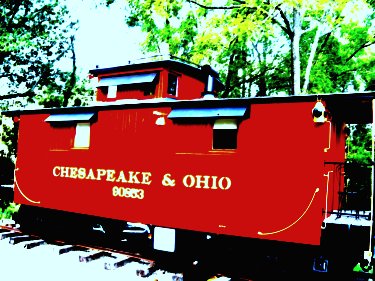 The Little Red Caboose is actually a 1926 C & O Caboose and I stayed there during my 3 day getaway! Located near Natural Bridge VA it is a very special Hidden Gem!!
Tom Bradshaw, the owner, found this original old caboose a number of years ago. He renovated the outside (love the bright RED!) to a mid 1930's look and turned the inside into an absolutely fantastic, unique getaway! This fun little red caboose could be a romantic getaway for two or a family fun adventure. Complete with a cupola for the kids - (sleeps two kids - bring your sleeping bags), and a bedroom with a captain's custom made double bed crafted by Ohio Amish craftsmen!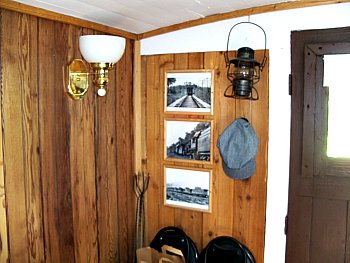 Every inch of this 200 square feet space has something special, fascinating and unique. (I use that word "unique" a lot because you can't use it too much with this little gem!)
This trip was a working one for me and I wanted to treat myself to something special. Tom did not know ahead of my visit that my job is to write about hidden gems in the Natural Bridge Virginia, Lexington Va areas. Boy! Did I get a treat!
The black metal steps leading up to the door of the little red caboose set the tone and I could almost hear the train engine's horn. The curved wood ceiling of the main room catches your eye. The cherry floors and western red cedar walls give off a soft glow.
Tom also has a visitors' log and it was exciting to read other visitor's entries about their experience at the little red caboose. Tom was telling me that a gentleman from Italy had called and wanted to stay in the little red caboose. Can you imagine a trip all the way to America just so you could stay there? Wow! I loved looking at the railroad memorabilia of pictures of cabooses in action, signal lanterns, marker lights and a really well stocked reading library about all things trains and train videos!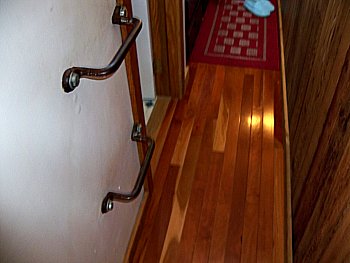 More about the caboose in a minute. I have to stop and tell you one of the best parts of staying there was visiting with Tom. He stopped by and we didn't have long but it was such an enjoyable chat! He shared how he likes to keep the personal touch with his rentals (He has others.. More on that later).
I shared with Tom that he and I are alike as that is how I like to do this website.. To reach out and make it as if I am sharing a cup of coffee with you and telling you about these hidden gems.. Enough about me. You can see that Tom is a people person.
While you enjoy the old and interesting you will not lack for comfort. Tom has equipped the main room with a galley kitchen complete with a 2 burner gas stove, a convection microwave, a small sink and a small frig. The on demand water heater gives you hot water when you need it. In addition he has air conditioning and heat for all seasons. What more could you want?
Oh yes! The bathroom! No, there is no out house! The ladies will especially like this.. A really cute bathroom complete with a shower and I have to say it was absolutely immaculate!
The outside of the Little Red Caboose....
Camping for kids is so much fun! Be sure to brush up on your camping songs and bring fixings for s'mores!
The patio is set up very comfortably and encourages evening talks and fun around the fire.
There is a gas grill for cooking and a gas hobo fire pit. I even saw metal "sticks" to use to toast marsh mellows on the fire. Tom has also supplied cut wood for you. If your kids like camping but you just don't want to do the camping thing.. this is a great compromise!
Parents get to sleep comfortably inside the caboose. Kids get to sleep in the day bed in the main room OR the cupola...
OR
They can pitch a tent outside in the grass and stare up at the stars while you rest in comfort!
I found in walking my little elderly Chihuahua there wasn't much level ground. Chico was so funny!
He only weighs four pounds and he would cock his leg up to potty on a leaf and almost fall over and slide down the hill each time.
I wanted to get a picture I didn't want to embarrass him. I could just imagine kids running up and down the hills and having such fun! There are plenty of family fun activities in this area including outdoors letterboxing and geocaching as well as two petting zoos - One at the Virginia Safari Park and one at the Natural Bridge Zoo. Be sure to see the Natural Bridge which is listed as one of the seven natural wonders in North America.
Whether you are looking for a romantic getaway, a respite from a busy life, or a Virginia vacation for the family, the little red caboose is a fun vacation.
Please take a moment and tell me about your stay at this hidden gem and you can be a Natural Bridge reporter!
To return from Little Red Caboose to Discover-Natural-Bridge-Va home click here